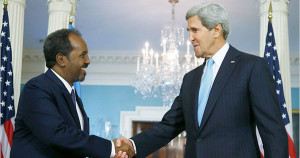 After the election of the current president, Hassan Sheik Mohamud, the people of Somalia were exceptionally optimistic about this particular president and his government to finally deliver a much needed stabilization and the rule of law in the country. This was partly because people were tired of lawlessness and insecurity at home as well as indignity around the world. Regrettably, things did not materialize as expected. The continued persistence of Al- Shabaab insurgency, the endless political in fights and the decentralization process in which federalism is expected to transpire has all proven very difficult and complex.
The international community played a significant role by providing assistance to authorities and civil society, by helping the Somalis to strengthen democratic institutions, improve stability and security, and deliver results for the Somali people with transparency and accountability. Since September 2012, renewed efforts have been made to re-establish the Somali state—with the best chance at stability more than two decades. On January 2013, the U.S. government recognized the new Somalia Federal Government. With all these efforts, great concerns remain to meet the key 2016 deadlines made by the Somalia's Federal and regional leaders.
At this critical junction, Somalia demands fundamental mechanism to navigate its progress forward. This is a challenge for the Somali people, their friends and partners around the globe. In order to properly support Somalia, not only does the international community need to sustain the course of democratization but to understand the forces that constrain their efforts. Unparalleled urgency exists to empower ordinary citizens, increase accountability and transparency, but moreover, invest in Somalia's ability to put an end to forces that have undermined its unity and its potential for stability.